Description
Introducing Google Maps Data Extractor Software for Windows: Your Ultimate Business Solution!
Unlock the power of location-based data with our cutting-edge Google Maps Data Extractor Software for Windows. Seamlessly designed and meticulously crafted, this powerful tool empowers businesses, researchers, and entrepreneurs to harness the wealth of information available on Google Maps and turn it into actionable insights. Whether you are looking to optimize your marketing strategies, analyze competitor locations, or explore new market opportunities, our software is your secret weapon to success.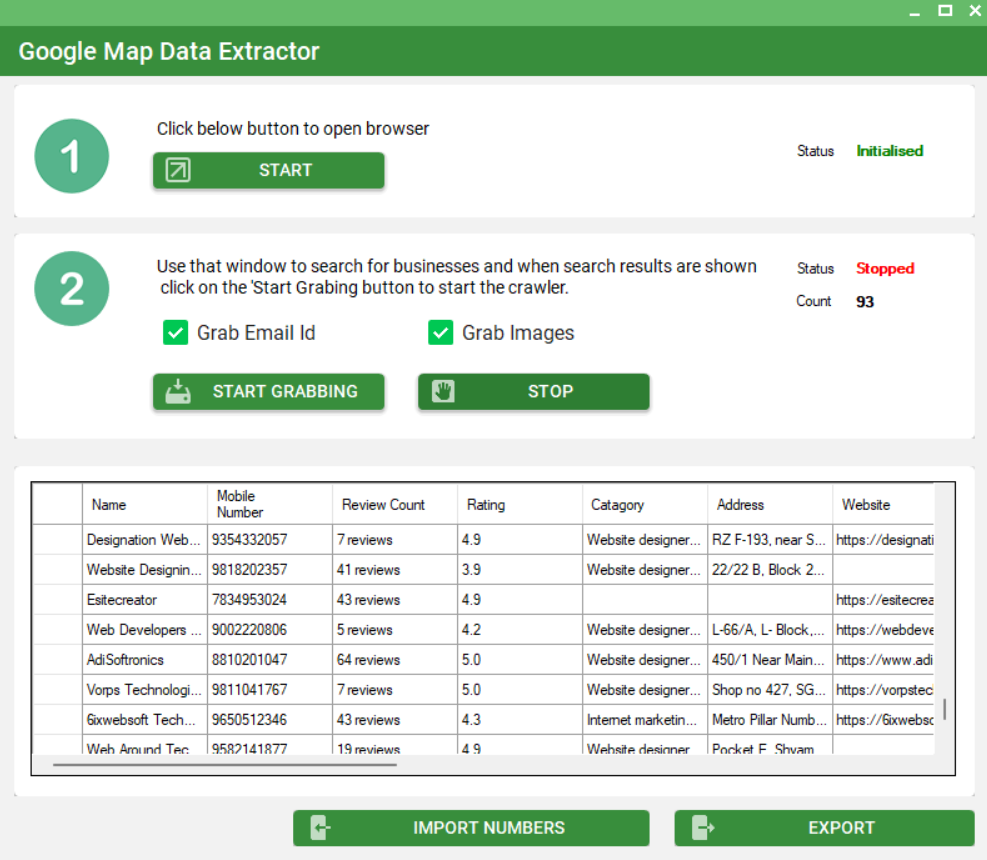 Key Features:
Effortless Data Extraction: Our software boasts a user-friendly interface, enabling even non-tech-savvy users to effortlessly extract data from Google Maps. Simply input your search criteria, and our software will quickly gather relevant information, saving you valuable time and effort.
Versatile Search Parameters: Tailor your data extraction with a wide array of search parameters. Filter results by location, industry, business type, contact details, and more, allowing you to pinpoint the precise information you need for your business objectives.
Bulk Data Extraction: Need to extract data from multiple locations or businesses? No problem! Our Google Maps Data Extractor Software can efficiently handle bulk extraction, ensuring you obtain comprehensive data for extensive analysis.
Real-Time Updates: Stay ahead of the competition with real-time data updates. Our software fetches the latest information available on Google Maps, keeping you informed of any changes that could impact your business decisions.
Export and Integration: Export data in multiple formats, including CSV, Excel, or TXT, for seamless integration with your preferred tools, such as spreadsheets or customer relationship management (CRM) systems.
Proxy Support: To ensure smooth and uninterrupted data extraction, our software supports proxies, preventing IP blocks or bans while scraping data from Google Maps.
GDPR Compliance: We prioritize data privacy and adhere to GDPR guidelines, ensuring that sensitive information is extracted ethically and legally.
Who can benefit from Google Maps Data Extractor Software?
Business Owners and Marketers: Identify potential leads, analyze competitor locations, and target specific demographics for more effective marketing campaigns.
Researchers and Analysts: Gather valuable data for market research, customer behavior analysis, and location-based studies.
Real Estate Professionals: Discover new property listings, analyze property prices, and research local amenities and demographics for informed decisions.
Retail and Service Industries: Optimize store locations, assess foot traffic, and identify gaps in the market for expansion opportunities.
Don't let valuable data slip through your fingers. Supercharge your business strategies with Google Maps Data Extractor Software for Windows. Stay ahead of the curve, make informed decisions, and unlock the true potential of location-based data. Get started on your journey to success today!